John Brezina's St. Louis America Cup Report
12:23pm Thursday, April 13th, 2023
"Now if this wasn't enough excitement..."
I'm thinking John Brezina should just give up his day job and become a full time chess tournament photographer and reporter. Read his following report and photography from the recent America Cup held in St. Louis, the chess capital of the United States, and I'm sure you will agree. His wife and daughter may not share my opinion, but who cares what they think :-) The heading photo features the world's largest chess piece in front of the World Chess Hall of Fame. As always, I am pleased to select and caption Mr. Brezina's photographs.

Quoting John Brezina "March 16-26, 2023: The American Cup returns for a second year to St. Louis in what has become the strongest tournament of US players. A unique double elimination tournament format with classical time controls in the Championship bracket and rapid time controls in the elimination bracket. Two strong eight player fields. For the men: Hikaru Nakamura, Fabiano Caruana, Wesley So, Levon Aronian, Leinier Dominguez, Sam Shankland, Ray Robson and Sam Sevian. All in the top ten US ratings list. For the women: Irina Krush, Alice Lee, Anna Zatonskih, Gulrukhbegim Tokhirjonova, Katerina Nemcova, Nazi Paikidze, Atousa Pourkashiyan and Tatev Abrahamyan. The match took place at the World Chess Hall of Fame due to a major expansion and construction across the street at the St. Louis Chess Club. I was fortunate to attend the opening and closing weekends of the event. Springtime on the calendar but not in the air as the opening had some cold temperatures. Great chess weather! The first time I can recall a tournament being held at the Hall of Fame."
"
The respect of a pregame handshake between rivals...
... and here they are engaged in postgame analysis.
"The staff did a great job in clearing the third floor of the Fischer-Spassky exhibit which provided a great setting with the many exhibit photos remaining. The first two floors remained open to the public but no spectators were allowed at the tournament. Defending champion Fabiano Caruana faced off with Ray Robson in round one while the only new player to the field this year is Hikaru Nakamura, facing off with the young Sam Sevian in round one. Nakamura would have the only decisive game in the round one matches, sending Sevian first to the elimination bracket."
Tatev Abrahamyan and Irina Krish are sure rivals, but maybe not friendly rivals.
"On the women's side, defending champion Irina Krush delivered Tatev Abrahamyan her first of two losses in their match. And matching that was the young 13 year old Alice Lee delivering two losses to Atousa Pourkashiyan, former eight time Iranian women's champion now playing under the US flag."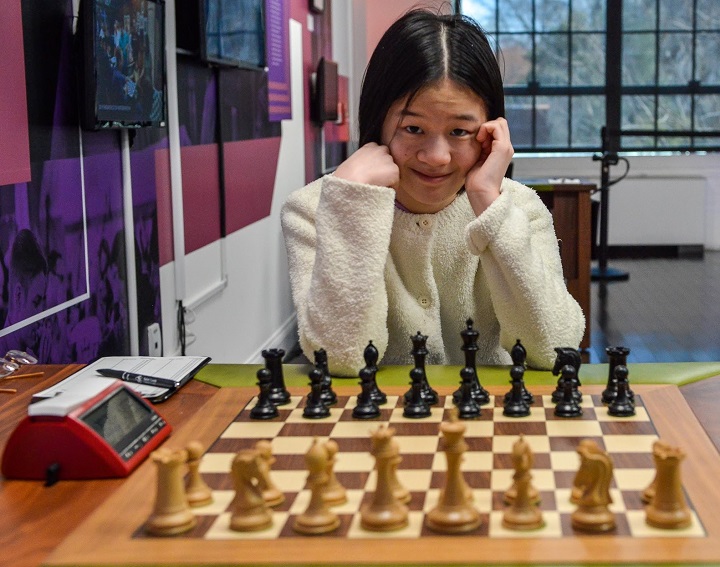 Alice Lee is clearly happy to at the board...
... and here she is making everything just so before the game begins.
"Day three and the first four players would be eliminated from the tournament. Aronian sent home Sevian while Shankland sent home Robson after an epic struggle. Their first two rapid games at G25+10 ended in a draw. Then the next two rapid games at G10+5 were split wins setting up blitz at G3+2 next. The first blitz game ended in a draw while game two saw Sam Shankland push his pawns to a victory. While all these exciting games were taking place on the elimination side, the other side of the room had the Championship bracket players competing. Classical, rapid and blitz all taking place the same day in the same room, the best of all three formats for chess fans."

GM Krush welcoming her opponent to the board. Or should i say victim :-)
"In the women's section, Abrahamyan sent Nemcova home with two victories while Pourkashiyan sent four time women's US champion Anna Zatonskih home by winning their second game. Irina Krush continued her namesake moniker by winning her third game in a row against Begim. Day four and Nakamura would win the second game against Dominguez, sending him to the elimination bracket to face Caruana after his playoff loss to Wesley So. Krush only needed a draw to reach the finals and that is just what she did against Begim. The young Alice Lee showed great fighting spirit by winning her game against former US champion Nazi Paikidze, setting up a repeat Championship bracket finals against Irina Krush."
A rising star, Alice Lee, alongside a longtime US Chess star, Irina Krush.
"In the Championship bracket, the first two games of both matches ended in draws setting up exciting playoff matches. Nakamura took game one of the rapid playoff and So came back to win game two on demand. Then on to blitz where Hikaru dominated and won both games to win the bracket. After drawing both classical games, Krush took game one of the rapid playoff and put Lee in a must win game two. But despite needing only a draw in game two, Krush pushed and secured a second victory and won the Championship bracket."
The game GM Nakamura vs. GM Dominguez is about to start.
"Back in the elimination bracket, Dominguez sent Shankland home in the rapids while Caruana and Aronian went the full distance to armageddon in one of the most exciting matches of the tournament. Every game traded blows and was decisive from the start. First in rapid, then in the faster playoff rapids, and finally blitz. Aronian had black and draw odds in the armageddon game but was able to strike in the end and win a marathon match. The next day Aronian knocked out Dominguez to set up a final bracket match against So. Aronian then met his match as Wesley So knocked him out of the tournament and earned a rematch with Nakamura in the Finals."
A look that says, 'I can play chess better than you." ...
... and I can too :-)
"On the women's side, no playoffs were necessary as Paikidze sent Tatev home while Begim won both games against Atousa. The next day Paikidze dominated Begim and won both games to set up a finals rematch with Alice Lee. The young Alice Lee then showed why she is number six in the country and won her second match against Paikidze securing a second year in a row spot in the Finals against Krush."

GM Wesley So making a move against GM Hikaru Nakamura

"I returned on March 25 for the final weekend and day two of the finals with the last classical games on the line. Hikaru Nakamura and Wesley So drew their first game but the veteran Irina Krush defeated her young opponent Alice Lee, setting up a must win game for the thirteen year old Lee. Starting with the men, Nakamura and So kept things peaceful and safely drew in 37 moves. On to the playoffs, where a favored Nakamura in the rapid format, lost a sharp game with opposite-side castling. This put Hikaru in a must win game for the first time in the tournament. But Wesley So was in great form and played a solid game where Hikaru could have taken a draw, but needed the win. Forcing play into a worse endgame, Hikaru eventually had to resign game two and return the following day for his second life in the double elimination format."

GM Krush relaxing with coffee and a book before bouncing back after a lost...
"While all this excitement was going, the other side of the room had just as much action with Alice Lee capitalizing on a blunder by Irina that would leave her a piece down. After 48 moves, the young Lee forced a playoff with her veteran opponent. Never being easy to bounce back after a loss, Krush did just that with the black pieces. She outplayed and defeated Lee in what should have been a drawn rook pawn endgame. Game two and with nerves of steel, Krush forced a draw and secured her second American Cup title. A jubilant Irina Krush sat and analyzed their game a moment before heading across the street for her final interview."
...and here she is dancing in the street after winning her 2nd America Cup title :-)
"The next and final day had plenty of action with the final between Nakamura and So starting at the same time as the American Cup Blitz tournament over at the beautiful Chase Park Plaza Hotel. This was not easy for me to decide which to cover so I decided to run back and forth the best I could to catch as much action as possible. I started with the blitz action since there were many more players and games to cover. But I'll talk about the heavyweight match first. Today would decide it all starting with two G25+10 games. The first game ended in a draw, but game two was a difficult double bishop and pawn endgame. Very complicated and exciting endgame as most games rather steer towards rook and pawn endings. Despite So having a slight advantage, Nakamura was able to force the draw and onto the next playoffs."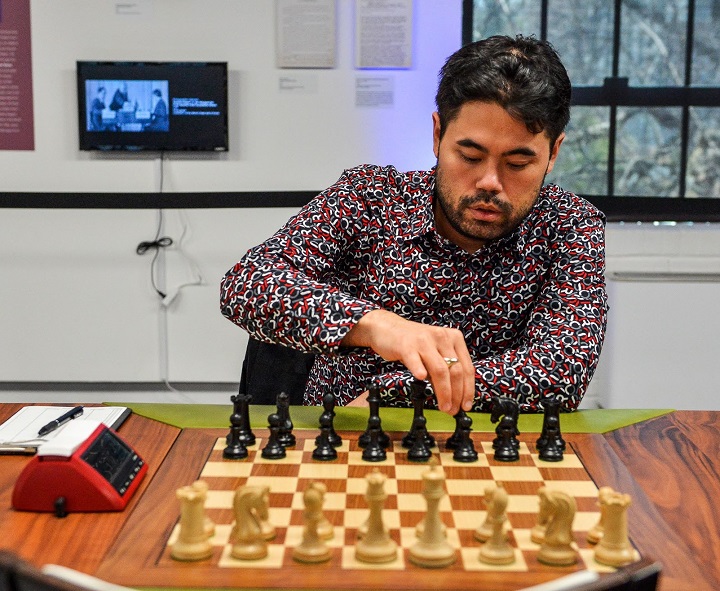 GM Hikaru Nakamura with one colorful shirt :-)
"The faster the time controls, the better the odds for Hikaru who is a blitz legend. The first G10+5 game ended in a quiet draw. Game two started out quiet enough and what seemed to be a fairly equal middlegame, looking like a possible blitz armageddon. But the game turned suddenly when Wesley So, after a long think, did the unthinkable. He captured a poisoned pawn on d2 on move 17, trapping his queen. Nakamura, a bit surprised along with the commentators, capitalized immediately and So resigned two moves later."
Sunil Weeramantry in a not so colorful brown sweater :-)

"They both sat and analyzed the game for some time and one of the first people there to congratulate the new champion was his step father Sunil Weeramantry. Hikaru then headed across the street to his final interview with Cristian Chirila. Afterwards he exited with his second Kris Littlejohn and famed photographer Lennart Ootes, stopping briefly for his official photo in front of the Hall of Fame and the world's largest chess piece."
The Blitz tournament is about to start.
"Now if this wasn't enough excitement, the strongest blitz tournament I have ever been near was in play. I was able to capture the opening two rounds before heading over to watch the ending of the first Nakamura-So draw. FIDE Tournament director Mike Kummer did a great job running this star studded field that included 29 Grandmasters out of the 38 players. More impressive is that two players were rated over 2800, Fabiano Caruana and Levon Aronian. Another notable player was IM Kostya Kavutskiy who was recording to later stream all of his games. And having finished a day earlier, Irina Krush and Alice Lee joined the field."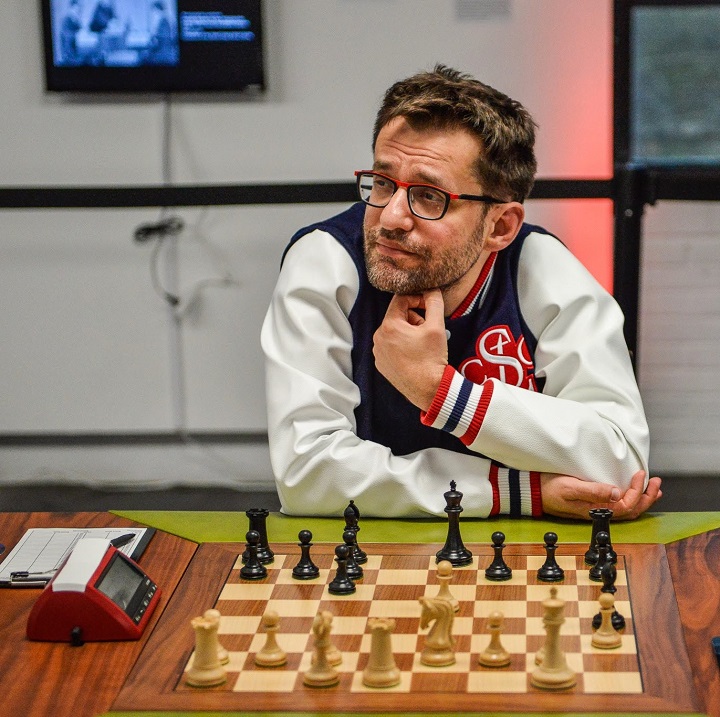 GM Levon Aronian with his no worries look :-)
"The tournament took place in a basement ballroom at the Chase Park Plaza Hotel, just down the street from the Hall of Fame and Chess Club. Many players showed up early to meet up with old friends and rivals. Then round one was posted and it was fun to see these strong players have to check the pairings like us mere mortals at a tournament to find their seats. Games were played at 3min+2 sec increment. The top four boards were DGT to broadcast for the commentators back in the studio which included the veteran Yasser Seirawan and 9-time British women's champion Jovanka Houska."
GM Fabiano Caruana arriving for his game against GM Ray Robson
"Starting at board one and never leaving it was Fabiano Caruana. He won his first five games before being held to a draw by Levon Aronian. Then chalking up three more wins to take clear first with an impressive 8.5 out of 9 points. Aronian took clear second with 7.5 points, his only loss to fellow Armenian Aram Hakobyan. Rounding out the top three was former world blitz champion Leinier Dominguez at 6.5 points. A strong hill to climb to get to the top indeed. I was able to be back in time to capture round four before heading back to see the second Nakamura-So end in a draw. After staying for the final win by Nakamura, I made it back for the finish of round nine where a crowd gathered around the Dominguez and Nikolas Theodorou game."
"It came down to playing on increment and would decide who was to take clear third place. Leinier with his experience and blitz nerves of steel came out on top. It was entertaining to watch the final results by Mr. Kummer as he announced the prize winners. Many of the players then had to get ready for a special closing dinner that evening with club founder Rex Sinquefield, including Irina Krush who was in great spirits and dressed for the occasion. Being ready early she had time to pose for some photos by Lennart Ootes in front of the Hall of Fame and chess club."
GM Irina Krush with john Brezina.
"As they say, timing is everything and I was fortunate to be there to catch the moment. Friends of hers stopped by including Alice Lee, Var Akobian, Wesley So, and commentator Jovanka Houska. With still time before dinner, Irina even popped into the club for a few more games of chess. Another great tournament comes to a close. What Rex and his team have created in St. Louis and for American chess is nothing short of amazing. I look forward to the completed expansion of the club and future events. Thanks to all of their staff for the hospitality and kindness over the years. A must do pilgrimage for every chess enthusiast. Enjoy all of my photos and videos in the links below. Four albums from my four days of coverage."

Day 1. https://photos.app.goo.gl/kY2aCtgU35tLwTUP6
Day 2. https://photos.app.goo.gl/ToxFtC1iYGqxehH16

Day 3. https://photos.app.goo.gl/bfLn9vrqDKjrYTs78
Day4. https://photos.app.goo.gl/cBs4vEawjJqjZCCw9
Videos. https://youtube.com/playlist?list=PLHRN9HSl3pFymVhnrph2py9ep_bgztMiJ
Regards,

John Brezina, Colorado Chess Informant Editor